2011 EVENTS
New Bridgefield Physiotherapy Clinic Open from November 2011
The Reeds Estate, Reeds road, Frensham, GU10 3BP
Offering
Canine Physiotherapy treatments.
Rider Physiotherapy assessments.
Sports injuries and other musculoskeletal treatments.
Comfortable, separate human and canine treatment areas.
Reception area.
Ample parking.
Electrotherapy equipment.
Exercise/rehabilitation equipment.
Friendly staff.
Equine Back Days
Jenny Wilson attended an excellent practical course in Vienna the 22nd to 24th of July 2011, with world renowned lecturers Sue Dyson, Philippe Benoit, Shauna Cantwell, Eckart Meyners, Hannes Muller and Susanne von Dietze.
The course covered diagnosing the origin of back pain in horses; clinical examination, radiographic, ultrasonographic and complementary medicine evaluation of horses presented with back problems. Theory on diagnosis and treatment of back pain problems, including what to look for with the rider from a riding instructor, physiotherapist and human locomotion analysts view.
The National Association of Registered Canine Hydrotherapists (NARCH)
On the 24th July 2011 Maruska Aylward-Green presented at NARCH at the University of Surrey, Guildford.
This was their 3rd education seminar and annual general meeting. Maruska was one of 5 speakers who presented on the day and presented about humeral condylar fractures in spaniels. She discussed a case study that was referred to her from Davies Veterinary Specialists.
In this case, skilled surgery was required to repair a complex y-fracture of the distal humeral condyle. Post- operatively, combined physiotherapy and hydrotherapy helped to rehabilitate this young spaniel to ultimately avoid limb amputation. This was a hugely rewarding case to work on.
Moorcroft Open day 2011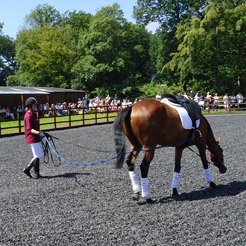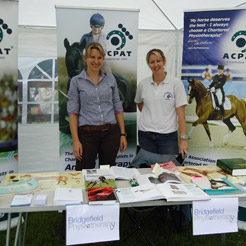 Jenny Wilson provides the challenging but rewarding Physiotherapy cover at Moorcroft Racehorse Welfare Centre in Slinfold, West Sussex.
On June 26th 2011, Bridgefield Physiotherapy was invited to attend one of their annual open days.
Here is Maruska and Kate providing any Physiotherapy advice required for any hopeful owners wishing to take on an x-race horse. In the demo, the benefits of long-reining and of working the horses 'long and low' were explained.
If you would like more information on Moorcroft please visit their website at www.mrwc.org.uk.