2012 EVENTS
APPI Matwork level one Pilates Course: The Foundation: August 18th-19th 2012
Maruska attended this course that is run by the Australian Physiotherapy and Pilates Institute as a pre-cursor to developing more specific rider assessments and treatments at Bridgefield. This course highlighted current research evidence which explains the vital roles of the transversus abdominus and multifidus muscles in segmental spinal control and lower back pain. It also allowed for a clinical reasoning approach to exercise prescription where the level of pilates exercises chosen were based on an assessment of our muscle sling system. This allowed for a more precise and graded rehabilitation programme to be applied.
The 5 key postural elements essential to achieve prior to beginning any pilates exercise were taught with precision as were the following 14 exercises which also had up to 3 levels of difficulty. This was an inspiring course which has left Maruska keen to see how to develop these exercises further for the more specific rider related pilates. It also highlighted to Maruska just how much she needs to work her own core!
7th International Symposium on Veterinary Rehabilitation and Physical Therapy: August 15th-18th 2012
Jenny attended the symposium held at the University of Veterinary Medicine, Vienna, Austria.
The first day Jenny attended practical labs run by leading vets and physiotherapists including R Weller, M Prades and N Stubbs. 1; examination and differential diagnostics in the horse with neck, back and pelvic dysfunction. 2; spinal mobilisation and manipulations. 3; mobilisation and tactile proprioceptive facilitation techniques and exercises.
The following 3 days Jenny attended an excellent lecture programme presenting current research in the equine neck, back and pelvis as well as equine sports exercise physiology.
ACPAT committee meeting: June 28th 2012
Maruska attends her first ACPAT committee meeting and commits to working with Stephanie Brindley and Polly Hudson to help write the ACPAT journal and newletters. Overall, Maruska is excited about being part of the committee and helping to raise the standard and profile of Veterinary Physiotherapists.
Winning Ways Conference: June 16th-17th 2012 at Aintree, Liverpool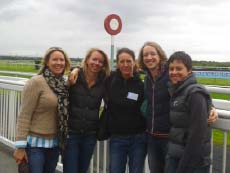 Maruska attended the Winning Ways Conference on June 16th-17th 2012 at Aintree, Liverpool. Topics covered related to the performance horse and the effects of the cardio-respiratory system, obesity, and neck, back and pelvic pain syndromes on equine performance. Leading lecturers in their field such as Cathy McGowan, Rene van Weeren and Narelle Stubbs were but a few of the inspirational lecturers.
Here, Maruska learnt about current research findings relating to the equine back and rehabilitation. The application of proprioceptive taping, use of theraband and proprioceptive chains were covered.
It also gave Maruska a chance to catch up with some old buddies from her RVC course!
Electrotherapy in Veterinary Practice: May 30th 2012
Jenny and Maruska attended 'Electrotherapy in Veterinary Practice' at Warwickshire College on 30th of May 2012. Professor Tim Watson covered recent updates and research on ultrasound, pulsed magnetic, interferential and H-wave therapy.
Moorcroft Racehorse Welfare Centre: May 22nd 2012
On 22nd of May 2012 Jenny Wilson gave an evening talk at Moorcroft Racehorse Welfare Centre, on how to identify common problems in the ridden horse from a physiotherapist's point of view.
ACPAT conference: February 25th-26th 2012
Maruska attended the Annual ACPAT conference on February 25th-26th 2012. Here the canine day included valuable information on common injuries in the canine agility dog, which mainly include back and shoulder injuries. Exciting new developments in bio-orthopaedics was also covered along with a more in depth look at common shoulder injuries and treatments. The equine day covered lectures on sport-specific injuries (Rachal Murray) and included an interesting introduction into FEI equestrian vaulting.