2013 EVENTS
South East Regional Group Meeting: October 2nd 2013
Kennel and Paddock, Reading
At this regional meeting Helen Robartes, ACPAT A, presented her research on rider symmetry. The results are still being processed, but it was confirmed that the majority of riders and horses move asymmetrically, but more work is needed to look into how one can affect the other etc. We further discussed cases we treat and common techniques that we use in practise. This was a really useful exercise to talk through problem patients and gain ideas for treatment techniques.
After this meeting, Bridgefield Physiotherapy Ltd offered to take on the role of organising SE Regional Group meetings due to our more southerly situated location. Megan Rees has to date carried out a grand job in arranging these meetings, she now turns her commitments to arranging the ACPAT seminar.
Moorcoft Racing Rehabilitation Centre Demonstration: August 8th 2013
Bridgfield Physiotherapy are privileged provide the physiotherapy services to this rehabilitation yard on a regular basis. Moorcroft run regular training courses and demonstrations. The Bridgefield team were asked to paint the muscles and joints on to some rehabilitating race horses for use in the demo. We held a 2 hour demo along with Mary Henley-Smith who manages the yard and covered common injuries to the neck, back and pelvis along with the simple biomechanics of the equine spine. The comments we received back from the day were positive and owners were grateful for the extra information about how their x-racehorses may feel and what conditions they may have.
Equine Aqua Training Vet Open Day : June 25th 2013
Bridgefield Physiotherapy was involved in this open day at Equine Aqua Training. Here we presented some of the data we gained from the south east regional meeting and presented to the veterinary surgeons the principles behind why the treadmill compliments veterinary physiotherapy. Other speakers included Dr. Thilo Pfau and Matthias Bauman. The data we gained showed that in particular the thoracic and lumbar regions appear to show the greatest amount of change in spinal displacement. Further data would need to be gained to see if this is in the flexion or extension planes, but this could still prove to be the beginning of the research that is needed to justify the use of this rehab tool to help treat some spinal pathologies. Graphs 1 and 2 show the averaged data from the three horses we assessed and shows the dorsoventral (graph 1 ) and mediolateral (graph 2) displacement at the poll, withers (w), thoracic (th), lumbar (lu), sacral (ss) and tail regions at different water heights at walk. Further research is clearly needed in this area and talks remain underway as to whether Brigdefield Physiotherapy and Equine Aqua Training will be involved in this.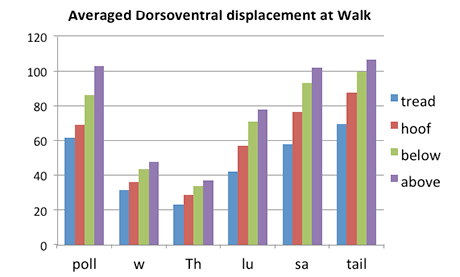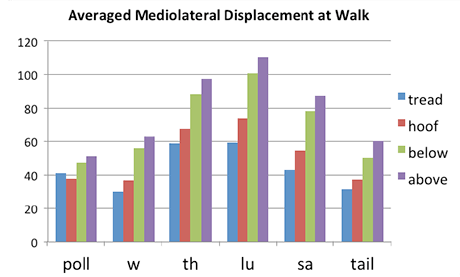 Lingfield Equine Veterinary Practise and Sussex Polo Tournament: April 16th 2013
Bridgefield Physiotherapy was invited to have a stand at this polo event that was raising money for the Ebony Horse Trust. Here were painted two polo ponies, one of which was playing in the tournament later that day. We painted the superficial muscular anatomy on to one side of each pony and the main skeleton on the other side. Our aim of this day was to educate the public, polo riders and grooms about the stresses and strains placed through the equine skeleton during polo chukkas. We further held a short demonstration showing how to perform specific stretches to polo ponies after a hard game and why this would be useful for them. This was a really enjoyable and fun day out for our practise and we thoroughly enjoyed getting our hands dirty! We were further mentioned in the polo times later that month.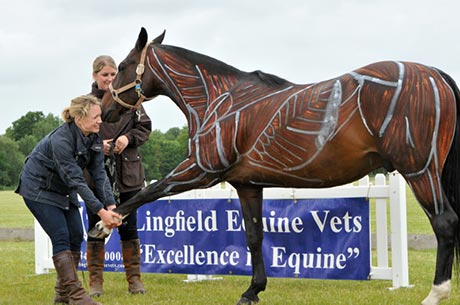 ACPAT South-East Regional Group Meeting: April 3rd 2013
Equine Aqua-Training, Garlands, The Haven, RH14 9BH
Bridgefield Physiotherapy held this regional meeting with the help of Thilo Pfau from the RVC. Thilo's Equi-Gait system, which is a sensor-based spinal movement assessment system, was used on three horses to measure what effects different water heights and speeds have on spinal movement in the Activo-Med hydro treadmill when compared to over ground. Results have not been statistically analysed yet but preliminary observations showed increased spinal displacement with increased water height. The relevance of this to specific rehabilitation cases needs yet to be finalised, but we feel horses with 'kissing spines' and sacroiliac dysfunction may hugely benefit from this adjunct to physiotherapy. We may be involved in some clinical research in this area, so watch this space!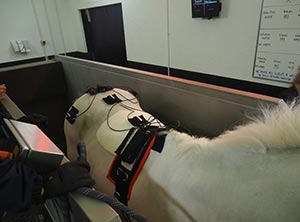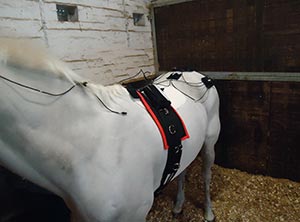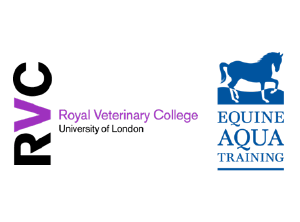 Moorcroft racing Racehorse Welfare centre: Feb 9th 2013
Jenny will be giving a lecture demonstration relating to common conditions treated in the thoroughbred, including common cervical, thoracic and lumbar problems. A short demo of ridden horses will follow.
To reserve your ticket please call 07929 666408 or email info@mrwc.org.uk.
Tickets cost £10 each and all proceeds go towards helping horses at the centre.
Activo-med Hydro treadmill training and education with Matthias Bauman: Jan 31st-Feb 2nd 2013
Maruska and Jenny attend Matthias Bauman's veterinary clinic for 3 days in Germany. Here they were involved in using the treadmill for Matthias' case of in-patient horses. They experimented with the Kinesio Tape® to encourage gluteal activation on one horse and also experimented with possible ideas for a pilot study they may carry out. They intend to use all knowledge gained to help set up a safe hydrotherapy protocol when treating horses in England with the activo-med treadmill they will be involved in using in Slinfold, West Sussex. This is an exciting time for Bridgefield Physiotherapy, watch this space for more info on more talks and the open evening coming up in Slinfold.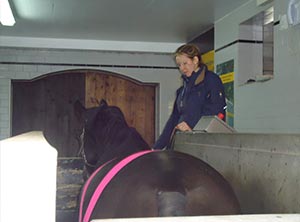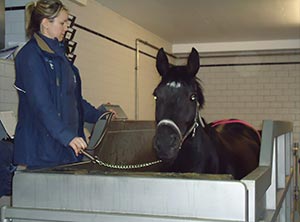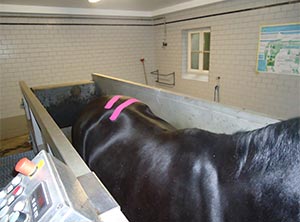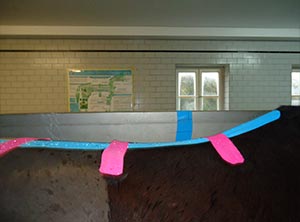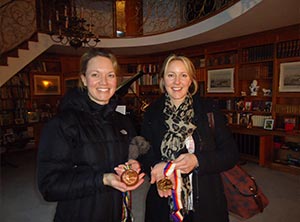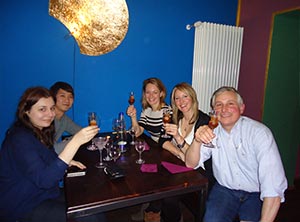 Kinesio Taping Course KT1
An introduction to the Kinesio Taping® method for horses, basic Kinesio Taping® concepts and Kinesio Taping® muscle applications: Jan 25th-26th 2012
Maruska and Jenny attended this course, the first of its kind in the UK that was run by The Kinesio Taping® Association and taught by Lee Clark, an ACPAT A Veterinary Physiotherapist. This course taught them the about the correct use of Kinesio Tape® as a treatment option when aiming to facilitate or inhibit muscles. It can be of valuable use to speed up the rate of tissue healing and in particular when intending to help reduce areas of swelling. The tape can also be used to enhance proprioceptive feedback from the skin and enhance neuromotor control. This was a great course to attend and hopefully it will develop further as more groups are taken. We intend to apply this to our equine and canine caseloads to enhance our rehabilitation and treatments.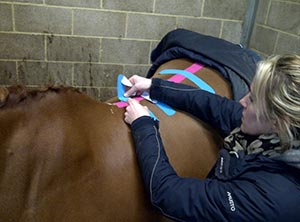 Taping to aid release of thoracolumbar fascia and thoracic awareness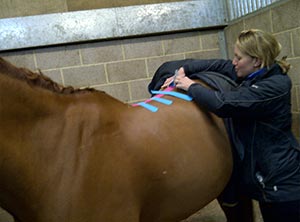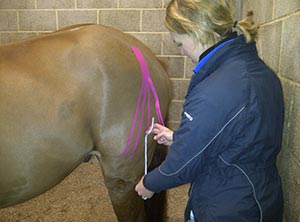 Taping to facilitate drainage of a haematoma to the biceps femoris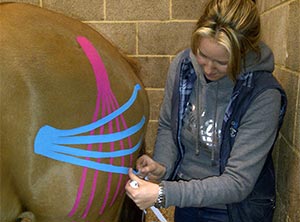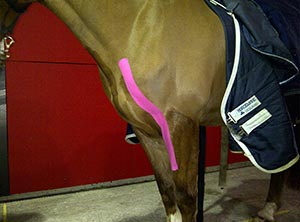 Facilitation of Biceps Brachii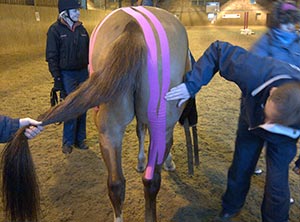 Facilitation of semi-membranosus and semi-tendinosus