2014 EVENTS
South East Regional Meeting: December 2014
Any South East Region physios were invited to attend a meeting hosted by the Bridgefield Physiotherapists. At the meeting Canine case study's were discussed and worked through in small groups then presented back to rest of group assessment/treatment plan and demonstrate techniques.
Moorcroft Demonstration: November 2014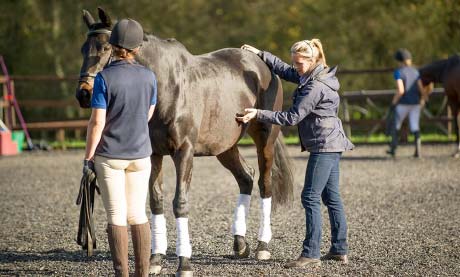 Maruska from Bridgefield Physiotherapy assisted Mary Henley-Smith at the recent Moorcroft Demo. Here Maruska discussed about the physiology of muscle development and the morphology of different muscles found in the race horse. She explained the importance of correct training with respect to the horses conformation and/or injury.
Animal Rehabilitation Expo: June 13th 2014
Maruska Aylward-Green has been invited to attend this COPA show exhibition for chiropractors, osteopaths, physiotherapists and Animal therapists in private practise. ACPAT has also been invited to attend with a stand.
Maruska will be presenting on an equine hydrotherapy treadmill case study along with presenting current research findings within this area.
Other therapists will also be presenting at the show including Dustie Houchin Chair of the Society of Osteopaths in Animal Practice (SOAP), Samantha Kingdon the Vice Chair if the British Veterinary Chiropractic Association (BVCA), Sarah Sarah Sandford of the Association of Chartered Physiotherapists in Animal Therapy (ACPAT)
Poor Performance sponsered by Merial: May 14th 2014
Bridgefield Physiotherapy Ltd, Farnham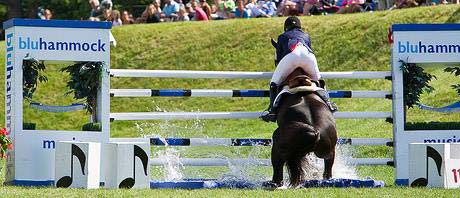 Janette Palliser and Emily Pearson MsRCVS will give talks on the orthopaedic and medical causes of poor performance.
Jenny Wilson and Maruska Aylward-Green , will discuss physiotherapy treatment techniques for common performance-related problems.
Merial will give a presentation on gastric ulcers and their treatment.
The evening will be concluded with wine and cheese.
ACPAT South East Regional Meeting: April 29th 2014
Lingfield Equine Veterinary Practise, Felbridge
This was an incredibly useful dissection afternoon where we were able to link common pathologies that we see in practise to anatomical landmarks. This was furthermore a great refresher for re-familiarising ourselves with anatomical areas covered with nerve blocks.
Thank you kate for taking the time to teach us today. We may next try to cover cervical anatomy in a little more depth.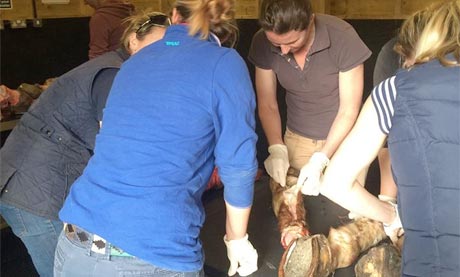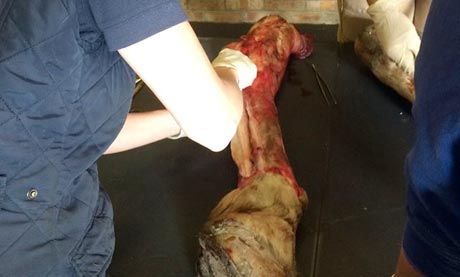 ACPAT Treatment techniques day: April 2nd 2014
Bridgefield Physiotherapy Ltd, Farnham
Jenny Wilson attended an ACPAT cat A day on 2nd of april for experienced cat A's (over 10 years qualified) to work through equine case studies and share treatment techniques.
The whole day was videoed and will be presented at next years ACPAT conference.
New treatments and perspectives - hearts and tendons: March 5th 2014
Bridgefield Physiotherapy Ltd, Farnham
Maruska and Jenny attended this South East Regional meeting run by BEVA. Lesley Young BVSc DVC DVA DipECEIM PhD MRCVS discussed an update on atrial fibrillation and what new techniques are available for clients should their horses have this condition. David Mathieson BVM&S MRCVS discussed tendon injuries and the new treatments that are currently on the market and if they worth it.
The conclusion was that this continues to be a frustrating and unforgiving area to treat in horses and there currently is no real evidence-based gold standard for treatment. We must however continue to take each case individually and treat appropriately according to the severity of the injury and the time since the injury.
South East Regional Group - Pilates for Riders Assessments: January 22nd 2014
Betchworth, Surrey
Here Bridgefield Physiotherapy Ltd held a regional meeting to go through how we assess riders for muscle sling weaknesses using pilates based exercises from the APPI (Australian Physiotherapy and Pilates Institute) course. We covered the main muscle slings at work during specific assessment exercises and covered the application of some pilates exercises.
We hope that this meeting gave our ACPAT Physiotherapists an insight into assessing riders and will give them more confidence when applying some specific pilates retraining techniques to their physiotherapy assessments.
Priory Vets are hosting a New Year pet and Equine Fayre: January 21st 2014
Bridgefield Physiotherapy Ltd, Farnham
Priory Vets are hosting a New Year Pet and Equine Fayre on the evening of Tuesday 21st January 2014. Doors are open from 7.30pm, open to all and entry is free. We are one of many stall holders either selling pet / equine products or promoting local animal related services. There will also be a number of animal charities to support and also several interactive stalls providing education on common pet / equine diseases. It should be a really fun evening for any animal orientated people, and a chance to shake off some mid winter blues with free refreshments as well as plenty of shopping and mingling!
Come and visit us at Betchworth Village Hall, Station Road, Betchworth, Surrey RH3 7DF. We hope to see you there!!
You can find out more by visiting www.prioryvets.co.uk or calling Priory Vets on 01737 242190.