2016 EVENTS
Free Talk, Fernhurst Village Hall: September 2016
Back pain diagnosis & treatment were discussed by Blackdown Equine Clinic vets & Jenny Wilson of Bridgefield Physiotherapy, with a specific focus on diagnosis & treatment strategies.
Pet Fayre, Priory Vets, Reigate: January 2016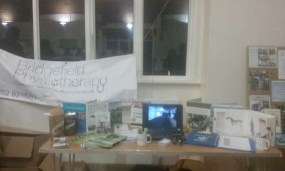 Cintia on behalf of Bridgefield Physiotherapy manned a stand at this Charity Pet Fayre. The stand enabled any passers by to discuss with Cintia about Physiotherapy benefits to horses and dogs and how to become an ACPAT physiotherapist.
Free Back Pain Talk: September 2016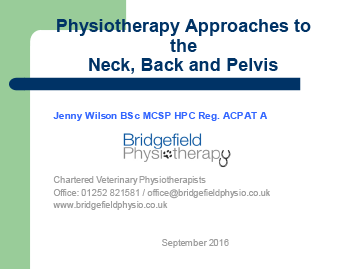 Jenny Wilson presented a talk on Physiotherapy approaches to back pain treatment in horses in conjunction with Blackdown Equine Clinic vets. This was held at Fernhurst Village hall and was a well attended talk.