About Human Physiotherapy
This involves the assessment, treatment and rehabilitation of musculoskeletal problems.
All of the physiotherapists at Bridgefield Physiotherapy have been originally trained in treating people. They have worked in the NHS and in private practise gaining invaluable skills in manual therapy techniques and rehabilitation.
The Bridgefield physiotherapists have a particular interest in treating rider related problems and with them all being riders themselves, this assists them in their understanding and relation to common rider related issues such as:
Sitting unevenly in the saddle
Having a weak inside leg on one rein
Being too strong in one hand
Dropping your shoulder or hip
Struggling with sitting trot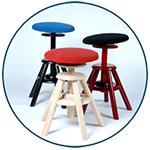 They have access to a new form of core and pelvic stability re-training with the 'Ballimo chair'.
This focuses on improving your:
Balance
Pelvic alignment and awareness
Lumbar spine and hip mobility, all elements which are crucial for riding
See website for further information www.balimochairs.com.
Some of the Physiotherapists have also taken further training in the APPI (Austrailian Physiotherapy Pilates Institute) method and can apply this to their Physiotherapy treatments of riders to help improve their balance and core stability on the horse.
One to one, pilates-based rider assessments using this Pilates method can be booked into for with some of the physiotherapists.
A regular Pilates class is also run in Five Oaks, West Sussex, which, if space is available, can be booked into.
In addition to the above, the Bridgefield Physios are also available to treat other Physiotherapy problems such as:
Sports injuries
Whiplash and neck injuries
Shoulder problems
Back pain and hip pain
Knee and ankle injuries
Treatments on offer include:
Electrotherapy – ultrasound, laser, TENs machines
Acupuncture
Joint mobilisation techniques
Soft tissue mobilisation techniques
Exercise rehabilitation and progression for specific problems
Please call the office to make a booking.